Protect your roof with Firestone EPDM Rubber Membrane
Firestone EPDM Rubber Membrane is a product we use on a regular basis when we are asked to fit a new flat roof onto one of these types of building:
Extensions
Verandas
Dormers
Garden sheds
Balconies
Gutters
Trailers
Porches
Garages
Carport
EPDM (Ethylene propylene diene monomer) has been used by roofers for over 50 years. The long term benefits and installation options it offers are:
Exceptional wind uplift resistance
It is extremely flexible
Maintenance free
Leaves a smooth finish
This cost effective roofing solution is ideal for residential flat roofs especially if your property has a porch, a garden shed or a carport. It will leave a smooth finish, which is more aesthetically pleasing to look at and less likely to hold debris like leaves and moss, which is more than we can say about felted roofs. It is one of the quickest and easiest roofs that we install.
Other roofing systems can cost up to 20% dearer than a Firestone EPDM rubber membrane roof. All trims are made of quality UPVC which adds up to being a full maintenance free roof for peace of mind.
So if your old roof is coming to the end of its lifespan then maybe it is time to think about getting the next generation of roof coverings and call our team today. We can give you all the information you need to know about Firestone EPDM roofing systems and can offer you a free no obligation quote.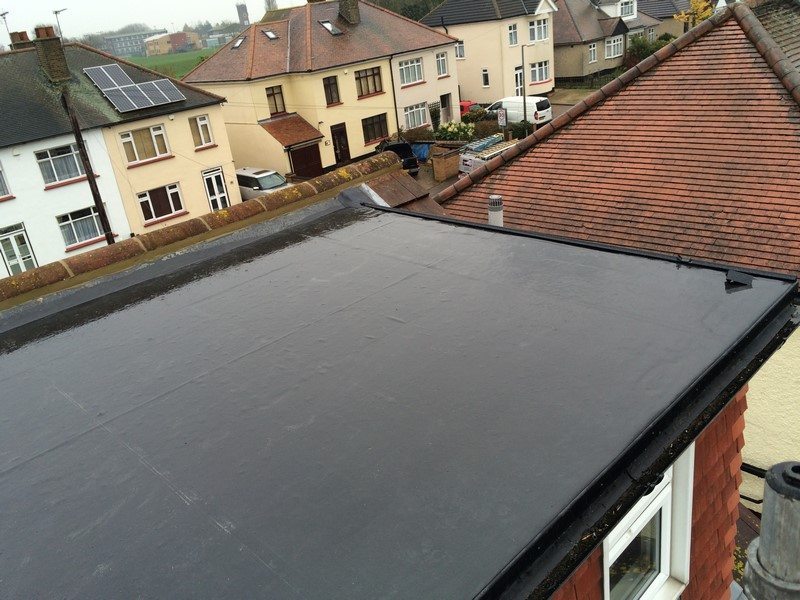 If you have an old flat roof on your garage, extension or a dormer and you would like to have a new flat roof installed that has a 25 year guarantee, then call Essex Loftspace today. We will remove your old roof and dispose of it in a professional manner and will replace it with Firestone EPDM rubber membrane.
Firestone EPDM Rubber Membrane is a single piece of rubber with no joints which should be leak proof for life. It is possible for all types of flat roofs to be covered with this durable, watertight roofing solution and when installed by a qualified team of roof fitters from Essex Loftspace, you will realise that this is an investment on your property that you cannot be without.
It is a versatile rubber roofing membrane that is made from a synthetic rubber compound which will not crack, tear, shrink and will not be affected by extreme temperatures, UV lights or the ozone.